VivoPower bags a 5-year Toyota exclusive – what investors need to know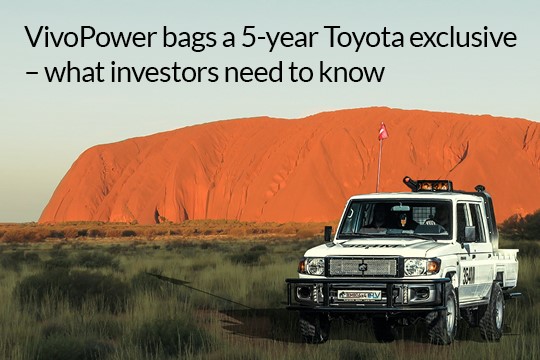 Sign up to receive VivoPower content
Nasdaq-listed corporate decarbonization business VivoPower International PLC has announced an exclusive manufacturing collaboration with Toyota, the world's largest carmaker.
Toyota Australia intends to integrate VivoPower's batteries, electric motors and wiring to electrify its iconic Land Cruisers – turning chassis originally destined to be diesels into emission-friendly EVs.
In an update note issued after the news broke, Edison lead analyst David Larkam declared the five-year deal 'a major milestone' and 'a strong endorsement', supporting revenues and dialling down risk as VivoPower prepares to hyperscale. Here are seven reasons why it's set to become a landmark deal – and creates the potential for upside in the share price:
Elon was once in a similar position
In July 2011 Tesla announced a $100 million agreement with Toyota to supply the electric powertrain for the RAV4 sports-utility vehicle. Given Toyota has won its top position in the car market through its technology, quality and manufacturing excellence, its decision to select VivoPower to electrify the Land Cruiser – after two years of testing the kit in the harsh environment of the Australian mining industry – is quite the endorsement.
It moves VivoPower up the supply chain
Until the news, VivoPower was a supplier of aftermarket conversion kits. And now it is being integrated into one of Toyota's manufacturing processes. They are very different positions in the supply chain.
The deal may shield VivoPower from competition
Not only will the business be working with, rather than competing against, the world's largest carmaker, direct competitors are expected to be locked out for five years when the full contract is revealed. Meanwhile, rivals with plans to sell electrified Land Cruisers anywhere in the world now have to compete against a Toyota Australia-approved solution.
It reveals new benefits of VivoPower's business model
The Toyota tie-up pulls in the gravity of the world's most powerful car brand, market penetration and servicing networks to assist VivoPower's ambitions for hyperscale growth. It also negates the need for the heavy capital investment to build a complete vehicle platform from scratch.
It brings the ramp-up into sharper focus
Since last year, the business has been building a global distribution network and has signed three agreements, spanning major mining markets including Australia, Canada and the Nordics. Together these deals, announced ahead of the Toyota news, envisage VivoPower delivering at least 4,475 kits to those regions in the next five and a half years with a total revenue of €268.5m.
The Toyota deal may provide share price upside
In Edison's March initiation note we valued the business at $19 a share on the assumption that VivoPower would sell 5,000 conversion kits per year in 2025. A tie-up with the world's largest car manufacturer derisks that assumption.
There's more to VivoPower than Toyota and EVs
Whilst ruggedized Land Cruisers dominate the revenue projections, VivoPower has a much wider remit. As recently as 2019 VivoPower was a standalone solar play and failing to make many headlines – until turnaround specialist and majority shareholder Kevin Chin (author of Hyperturnaround) was appointed CEO and brought in a new management team. The team's strategy has been two-fold. The first phase focused on buying and integrating two electrical engineering outfits to pivot the business into establishing a completely new market segment, being dubbed 'Corporate Decarbonisation'. VivoPower now has the ability to help any large company meet its net zero carbon objectives via on-site installation of power generation, storage and microgrid distribution. The second phase was to buy and integrate Tembo eLV, the manufacturer of EV conversion kits now approved by Toyota.
For a deeper dive into this latest news, read David Larkham's full update note >
To understand all of VivoPower's operations and financials in even finer detail, read our initiation report.
Sign up to receive VivoPower content