COP26: Time to realign your supply chain with net-zero goals?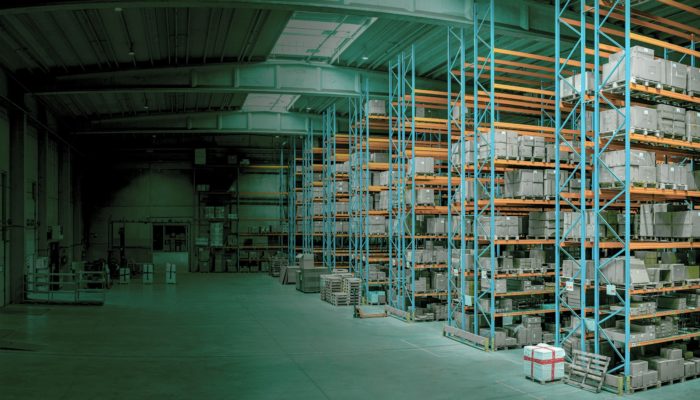 COP26 will likely see a host of updated climate pledges, which means companies may get a clearer picture of their supply chains. More homogenous environmental commitments are likely to be welcomed by organisations with supply lines crossing several borders. On the other hand, it's expected that some major economies – notably China – won't bring forward or alter their emissions reduction plans. Perhaps it's time for a reassessment of supply lines.
China absent
The news that Chinese President Xi Jinping is unlikely to attend COP26 in person may come as little surprise to many world leaders. Xi hasn't left China since the start of the COVID-19 pandemic. The idea that he would break this cycle to attend a conference hosted in the UK – somewhat a geopolitical rival – may be viewed in hindsight as a little farfetched.
There was perhaps a glimmer of hope that the conference would see Beijing announce revised climate goals – potentially even bringing forward China's 2060 target for carbon neutrality. Commentators have now said Xi's absence extinguishes any optimism that this will happen.
How much this optimism was grounded in realism is up for debate. There was some anticipation in April, during the US-hosted virtual Climate Leaders Summit, that China would revise its 2060 goal, perhaps even bringing it in line with Western nations that have targeted 2050 for this milestone. China didn't budge, though Xi did say the country would scale down its coal production between 2026 and 2030.
The approach to COP26 seems to be following a similar path. It's unlikely that China will adjust its goals. It has, however, made a concession ahead of the conference, stating that it will stop financing new coal operations abroad.
The indication seems to be that China is willing to move on climate to some extent – it's just not willing to dance to the West's tune. Indeed, Beijing has vocally decried some climate policies of the West – notably the EU's proposed carbon border levy.
Readdress, report, repeat
The reality is that, if climate change is to be adequately addressed, then China – the world's largest emitter – needs to be on board. Until such a time that it is more 'in sync' with the West, however, companies will need to understand that their exposure to China – via supply chains, for example – could be problematic amid incoming climate reporting standards.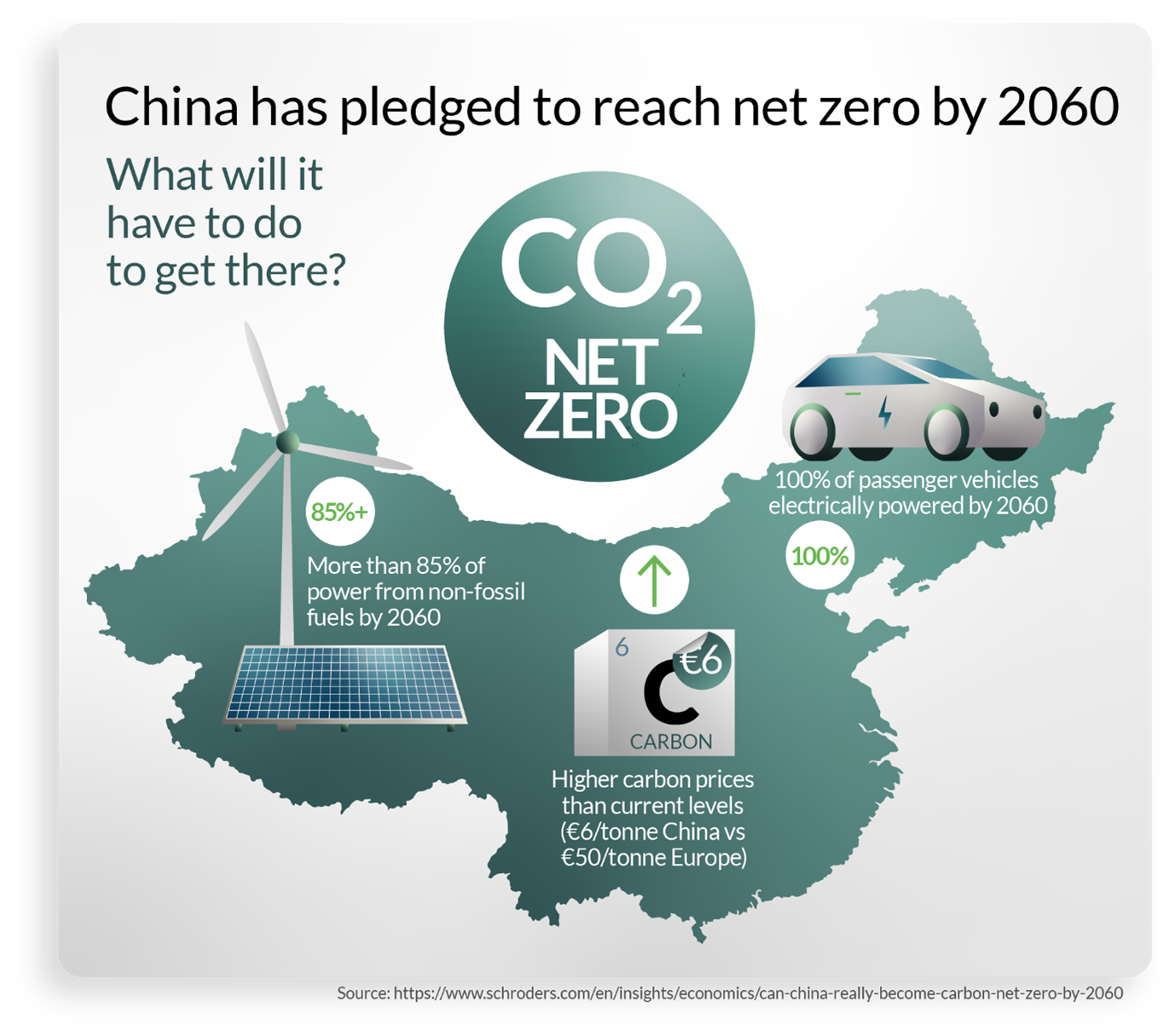 Source: Schroders report: Can China really become carbon net zero by 2060?
'While Scope 3 emissions reporting is still not mandatory in most circumstances, we believe listed companies will be increasingly expected to report on the full impact of their activities on the environment – both upstream and downstream of their position in the supply chain', notes Alastair George, Edison's chief investment strategist. 'This represents a significant challenge in terms of data gathering and data quality.'
One solution could be the application of distributed ledger (ie environmentally friendly blockchain) technology, where the full environmental attributes of every component of every product on the market are available online. 'This would aid transparency for regulators and the public', Alastair notes. 'It would also allow design processes to be optimised to ensure environmental objectives are met from the very inception of any new product or service. The sheer number of permutations of this environmental design process could also lend themselves to machine learning processes in terms of supplier and component selection and product design, as a complement to existing CAD methods.'
Regardless of the technology used to facilitate it, new environmental budgeting and reporting will require a significant investment by industry, with companies that are already leaders in certification and inspection set to benefit.
Additionally, the geopolitical implication of having to disclose Scope 3 emissions is that 'environmental arbitrage' will become significantly more difficult as certification requirements set in – for example, the EU or US compelling companies to source products and services only from compliant firms or jurisdictions.
This may yet – in the early stages at least – be met with political opposition. It could easily be perceived as a trade barrier between advanced economies and developing nations, which have to date benefited from having relatively lax environmental standards.
For example, despite reaping enormous profits from digital disruption, the US opposition to digital taxes on US technology giants, which have often paid very little tax in European nations, shows that the political path to a global standard for accounting, reporting and certifying environmental costs may not be smooth. There appears to be an increasing probability of a further fragmentation of global supply chains, separate to the US's relatively recent strategic moves to ensure security of supply of key products and materials.
Looking elsewhere
Looking to diversify away from China when it comes to supply chains has been something of a focus in the West recently. In March, President Joe Biden signed an executive order intending to scrutinise US supply chains – framed by some as a move to diversify away from a reliance on China. Earlier this year, the EU also looked to source key materials for solar panels elsewhere, although the concerns in this case were social rather than environmental in nature.
Companies may wish to familiarise themselves with these initiatives, identifying potential ways to find alternatives to China. Some have already started this process, with the previous trade war between Washington and Beijing leading to a slew of technology firms – Microsoft, Google and Amazon among them – seeking new pastures.
However, completely eradicating China from supply chains is no small task. Previous estimates have put the cost of such a move as high as $1tn.
China has significant dominance in supplying many critical materials. A useful good case study here is rare earth metals, which are critical in the manufacture of many sustainable technologies. While attempts have been made to loosen Beijing's grip on the world's supply, it's hard to cut China out of the supply chain completely. The country accounts for the vast majority of processing capacity for these metals. Even minerals dug out the ground in the US or Australia are likely to find their way back there.
Beijing knows this and is not waiting passively for its dominance to be wrestled away. In September, reports suggested that China was in the process of consolidating its rare earth metal companies into two giant organisations, allowing them to dictate global pricing.
Additionally, it's worth noting that many of the alternatives to China are also problematic from a carbon emissions viewpoint. Vietnam, for example, which has been sought out by suppliers to the likes of Apple and Dell, noted last year that it expects its emissions to deteriorate up until at least 2030. The country has said it will aim for net zero as soon as possible but has yet to officially adopt a target for this milestone.
With COP26 just days away, we are hoping, at a minimum, to see clear developments on climate pledges. This will help companies gain clarity on how they should be considering their supply chains – from both a geographical level and in terms of their own individual climate pledges. We anticipate that reporting Scope 3 emission alone will drive change, so perhaps now is the time for a reassessment of supply lines.
This article has been created in collaboration with Curation Corporation Limited who are passionate about promoting and helping to deliver positive change in all things ESG. Curation specialise in providing thematic and business-specific intelligence to enable deeper understanding of the issues that matter most, and the implications for your business.
If you'd like to find out more about ESG, please contact Kelly Perry at kperry@edisongroup.com